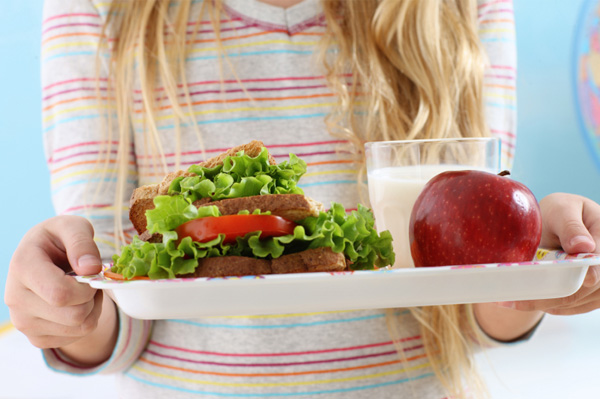 Healthy School Lunches
Packing a Lunch:
1. Use the Nutrition Facts label to help choose healthy foods.  Select those lower in fat, sugar and sodium.
2. Limit cheese on sandwiches and choose low-fat or fat-free varieties.
3. Choose lean meats.
4. Include at least one serving of fruit.
5. Use vegetables creatively. Garnish sandwiches with spinach, sprouts, grated carrots and tomatoes. Cut peppers or cucumbers into bite-size pieces for dipping into low-fat dressing.
6. Make sandwiches with whole grain bread rather than white bread.
7. Limit snack foods and baked goods as they may be high in fats, sugars and salt.  Unbuttered popcorn and pretzels are healthy alternatives.
8. Choose 1% or fat-free milk.
9. Select 100% juice and not juice drinks.
10. Have the children help make their lunch so they learn proper food choices and they "buy-in."
Buying a Lunch:
Use school lunches as a chance to steer your child toward good choices. You can't force a child, but you can make it easier to eat healthy. Especially with younger kids, start by explaining how a nutritious lunch will give them the energy to finish the rest of the school day and enjoy after-school activities. Here are some other steps to take:
1. Look over the cafeteria menu with your child. Ask what a typical lunch includes and which meals he or she particularly likes.
2. Recommend items that are healthier, but be willing to allow your child to buy favorite lunch items occasionally, even if that includes a hot dog.